Welcome to our Globetrotting Sistars, LLC events page.
Although we go to these extraordinary places all of the globe, sometime we like to keep it local with our events. Please note that you'll have to still RSVP on our Facebook page to attend the events.
MAY 10-12 – MOTHER'S DAY WEEKEND IN THE BIG APPLE! (MeetUp)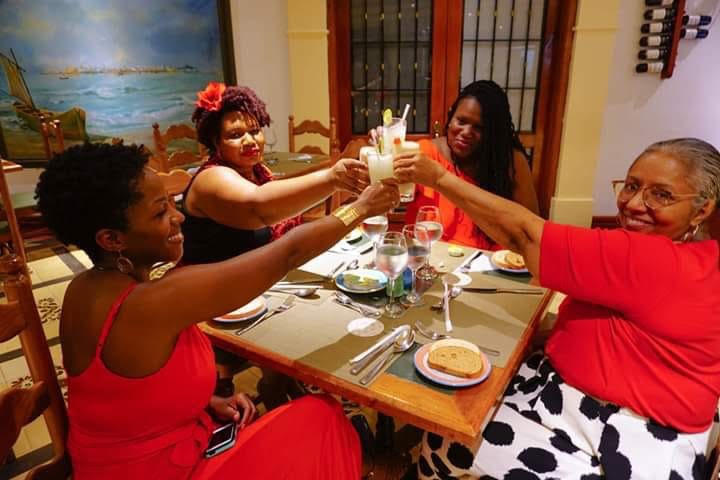 ONLY 10 Spaces are available!
Mother's Day Weekend 2019 Events Only Package
Join your fellow Globetrotting Sistars for a spectacular weekend in NYC! Be pampered, nosh on a variety of delicious cuisines and great entertainment. Interested? See below for more details!
Booking Information
Note: This is a meet up only and not a group trip. Consequently, you will be responsible for booking your individual hotels if you do not reside in NYC. Please see recommendations below. 
Friday May 10th: Afternoon Tea (High Tea)
Time: 2:00pm – 3:30pm
Venue: Bosie Tea Parlor 
Cost: $99pp USD
An opportunity to get acquainted over high tea.
Located in charming brownstone-studded Morton Street in the West Village, it's one part curated tea oasis, one part wild child in its dessert experiments. Bosie Tea Parlor is everything a traditional tea parlor is not: it features unexpected pairings, quality desserts and a fusion of English High Tea characteristics coupled with French desserts. You can find worldwide influences on the menu, from the Viennoiserie to the eclairs. 
*Fascinators/Broad brim hats are recommended but not mandatory.*
Friday, May 10th: Welcome Mixer (Cocktails)
Time: 9:00pm – 11:30pm
Venue: Ginny's Supper Club (Harlem)
Cost: $65 USD ( 2 cocktails maximum incl.)
Dress Code: Gatsby Themed
Listen to a live band (Jazz etc.) as we sip on premium cocktails at a classic Harlem speakeasy. One of Harlem's staple and a black-owned establishment. 
Saturday, May 11th: Spa Day 
Time: 10am – 5pm | Please note that everyone who has RSVP'd and paid will be given a specific time for individual treatment.
Venue: Great Jones Spa
Today is our day of total pampering and rejuvenation.
You will select an individual treatment or the package as listed below. Within 48hrs of booking, you will receive a form to choose your specific treatment.
Cost: (Choose 1, 2 or all 3 treatments) 60 min each!
Facial – $240 USD
Body Scrub – $230 USD
Massage – $230 USD
Package (all 3 treatment including water lounge access) – $650 USD
Water Lounge Access Pass – $85 USD
Sunday, May 12th: Mother's Day Brunch!
Time: 11am – 2pm
Venue: Amy Ruth's
Cost: $99 pp USD
Today we will support a local staple and black-owned business in the heart of harlem. We will be feasting on authentic scrumptious southern cuisine. We will enjoy a lovely brunch as we bid farewell until our next meet up or trip.
PAYMENT
Non-Refundable Registration Fee: $25pp USD
Payment Deposit: 50% of total services (Due at the time of Booking)
Payment Balance: 50% remaining balance (Due no later than March 28, 2019)
Please use the following link to submit your payments
https://www.paypal.me/GlobetrottingSistars
Duly note you can also use Zelle or Cash App: $GlobetrottingSistars
Please indicate in the note section the exact events/services you are paying for.
INVOICES
Payments will be made by PayPal to www.Paypal.me/GlobetrottingSistarsor by Chase/Bank of America Quick Pay (Zelle). Once payment is received, client will receive an invoice no later than 3 days after payment. It is the clients responsibility to provide an email address for the invoice to be sent to. Invoices will be sent out no later than 15 days before they are due. It is the Clients responsibility to alert Globetrotting Sistars LLC at least 10 days before an invoice due date of a lost, or unreceived invoice.